Are you interested to play this Blacksad: Under the Skin Game for PC? Get Blacksad: Under the Skin at no cost from GOG! Immerse yourself in this detective-mystery game featuring a captivating world, puzzles, quick time events, and multiple-choice dialogues. Don't miss out!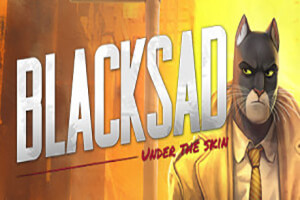 Game details –
Genre: Adventure – Puzzle – Detective-mystery
Works on: Windows (7, 8, 10, 11), Mac OS X (10.11+)
Release date: November 14, 2019
Company: YS Interactive, Pendulo Studios / Microids
Size: 12.9 GB
Key of Features –
Explore a unique, faithfully recreated world in an original BLACKSAD story.
Experience an immersive narrative adventure with investigation, puzzles, QTE, and impactful choices.
Encounter over 30 diverse characters, each with their own intriguing stories.
Immerse yourself in a noir-inspired world with a captivating jazz soundtrack.
Perfect for adventure game enthusiasts and fans of the comic series.
Enter a dark, anthropomorphic animal-inhabited realm.
How to Get Blacksad: Under the Skin (GOG) Giveaway:
Here's how to claim your copy:
At First Go to Visit The – GIVEAWAY PAGE HERE.
Simply click on the "Go to giveaway" green button, and you'll be taken to GOG's homepage.
Scroll down until you spot the game banner.
Click the "Get it Free" button and log in to your GOG account to access the game.
System Requirements to Play This Game –
| System Requirements | Minimum System Requirements | Recommended System Requirements |
| --- | --- | --- |
| System | Windows 7 (64-bit) | Windows 10 (64-bit) |
| Processor | Intel Core i5 (3GHz) or equivalent | Intel Core i7 (3GHz) or equivalent |
| Memory | 8 GB RAM | 16 GB RAM |
| Graphics | AMD R7 260X / Nvidia GTX 750 Ti 2 GB | AMD Radeon RX VEGA 64 / Nvidia GTX 1080 |
| DirectX | Version 11 | Version 12 |
| Storage | 30 GB | 30 GB |
You may also like: Minion Masters – Vanguard (DLC)